Cultural Property Protection in Practice: VDR Presents a Rescue Container at denkmal and MUTEC
The Association of Restorers (VDR) looks forward to being able to present visitors to denkmal and MUTEC with a trade fair stand that looks like something out of a live disaster operation. You are cordially invited to visit the restorers and take a look at their on-site rescue container. The roll-off container for cultural property protection from the Cologne Emergency Association for Archives and Libraries (Kölner Notfallverbund) has proven to be a sustainable rescue system and will be transported to Leipzig in order to familiarise as many experts and interested laypersons as possible with how first aid can be carried out on damaged objects in the event of disasters in the future.
The Cologne pilot project is just the beginning. In accordance with the decision by the Federal Cabinet on 13 July 2022 to strengthen resilience to disasters, there are plans to set up more emergency containers in Germany. The containers can then be equipped with modules for different disaster scenarios and provide first aid for a large number of damaged objects. The four federal states affected by the flood disaster in the summer of 2021 are now being called upon to purchase up to ten available containers.
In November, the prototype roll-off container from Cologne will already be able to provide some inspiration for this. It is easy to transport, is compatible with the vehicle fleet of all blue-light organisations and can be used universally. Power and water supply as well as drainage are based on standard fire brigade equipment. Depending on the situation, power and technology could be provided either by the fire brigades themselves or also by the Federal Agency for Technical Relief (THW) or the Federal Armed Forces. The VDR is looking forward to lively discussions at its trade fair stand and will continue to support the Federal Office of Civil Protection and Disaster Assistance (BBK) as well as others involved in cultural property protection in implementing the plans beyond the trade fair.
In addition to a professional guided tour of the container, the VDR is again offering a series of lectures at the trade fair. Owing to current events, one of these is entitled "Catastrophes, Disasters, Wars – Restorers in Action". Experts from ministries, federal authorities and cultural property protection work will be able to give their opinions on 24 and 25 November 2022 – moderated by VDR Presidium member and disaster expert Nadine Thiel. They will reflect on the extreme events of recent years as well as the present day, talk about specific rescue operations and discuss perspectives for cooperation.
Partnership goals include establishing an emergency alliance and training cultural property protection advisors who can then share their expertise. There is also a need for those in the cultural sector to make politicians more aware of the importance of preparing for disasters. On 25 November, in a panel discussion entitled "What Can We Do Better?" with representatives of the German National Committee for Monument Protection (DNK), the German Federal Environmental Foundation (DBU) and Blue Shield Germany, the VDR will discuss who is responsible for safeguarding people's cultural heritage for the future, and how this can be done.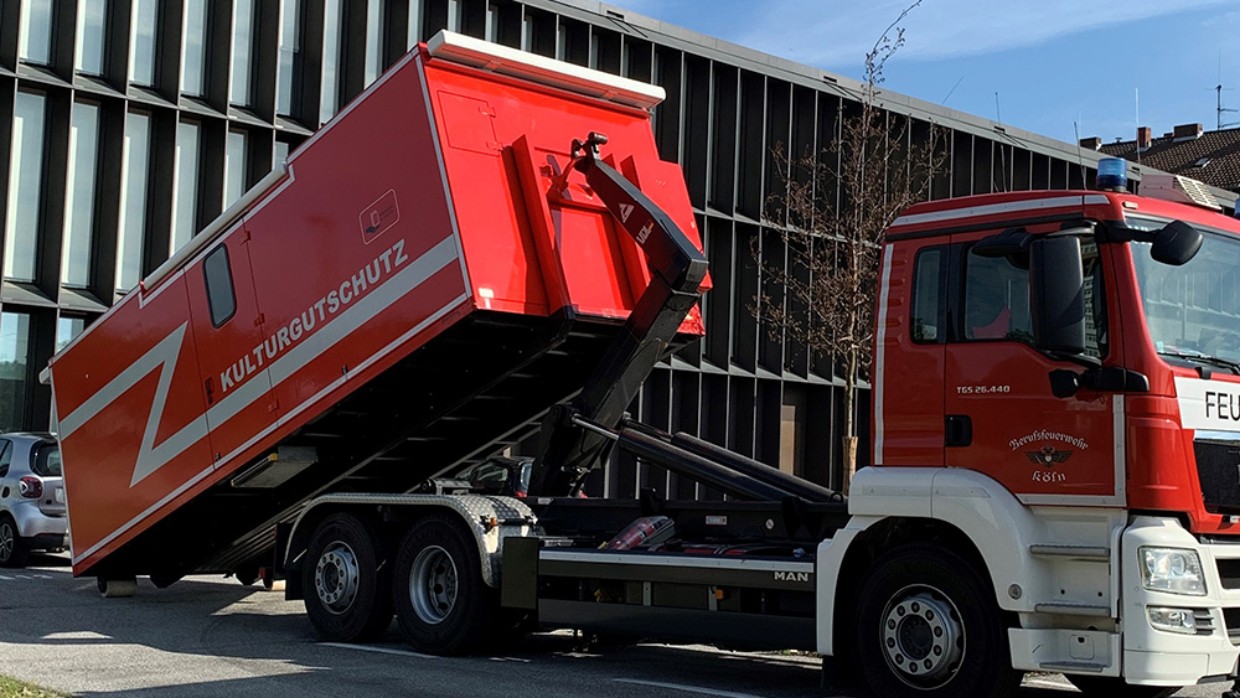 Back to all news