Don't Miss out on Exhibiting
Information for Exhibitors
Are you interested in presenting your latest developments to an enthusiastic audience from a wide range of cultural institutions as well as establishing and maintaining business contacts? Then MUTEC is the right place for you. Use the three days of the trade fair as a compact source of information and a platform for meeting contacts!
Good reasons to present yourself
1. Meet the right visitor target group at MUTEC
The MUTEC is the trade fair for all national and international experts, decision makers and investors from museums, exhibition halls, archives, libraries and other cultural institutions.
96% trade visitor share
91% of the exhibitors rated the quality of the talks / contacts as positive
65% of the visitors state that they only visit the MUTEC as a museum trade fair
70% of MUTEC visitors are decisive, co-decision-makers or consultants involved in purchasing and procurement decisions in their company
62% of MUTEC exhibitors were able to reach their most important target group "museums, exhibition halls and galleries" very well / well in 2018
2. MUTEC as a source of inspiration
Get into contact with your target groups at MUTEC. Learn first-hand about which products and services are in demand and which application situations arise for your customers. This creates new ideas, valuable impulses in the dialogue - and of course new contacts.
77.5% of MUTEC trade visitors wanted to get to know new products / service offerings in 2018
74.8% wanted to find out about new products / industry trends
61.7% of trade visitors rate the quality of the MUTEC specialised programme as "very good / good"
3. Networking with various MUTEC actors
In addition to your visitor target groups, you will also meet representatives of important regional and national associations from the museum, archive and library sector at MUTEC. Networking among the exhibitors is also appreciated. Use amongst others the opening event in a stylish setting to interact with national and international customers, colleagues and representatives from politics, media and science!
For 83.5% of the 2018 exhibitors was the "target group expansion"
for 65.8% the "maintenance of already existing contacts" an important objective, whose achievement they rated as "good" in each case
23% foreign exhibitors
12% foreign visitors
4. Attention by the MUTEC communication measures
By an early registration, you will gain broad attention through our communication in the run-up to, during and after the trade fair. Therewith you achieve an optimal range beyond the duration of the trade fair.
own newsletter MUTECaktuell with over 2,000 subscribers
MUTEC website with interactive hall plan and database for the specialised programme
visitor mailing campaign to over 8,550 addresses
Cooperation with the most important associations and trade media in visitor communication
Kundeneinladungen für alle Aussteller in jeglicher Stückzahl und ohne Zusatzkosten
5. Added value thanks to international trade fair duo
Together with the denkmal, the MUTEC forms a Europe-wide unique fair association for cultural heritage and cultural asset, which noted a record participation in 2018 with over 550 exhibitors from 20 countries and welcomed a total of 14,200 visitors on the three days of the trade fairs.
74.7% of MUTEC exhibitors rated the addition to the offer by denkmal as positive in 2018
MUTEC exhibitors benefit from the interested trade visitors of denkmal too
78.5% of MUTEC exhibitors rated the trade visitor response as positive on the questions of synergies with denkmal
MUTEC Product profile
Building | Technology
Exhibition design
Visitor services
Media presentation
Museum Collections Management
Archives | Depot
Library technology
Stage technology | Stage equipment
Management of cultural institutions
Institution | Publishing house | Education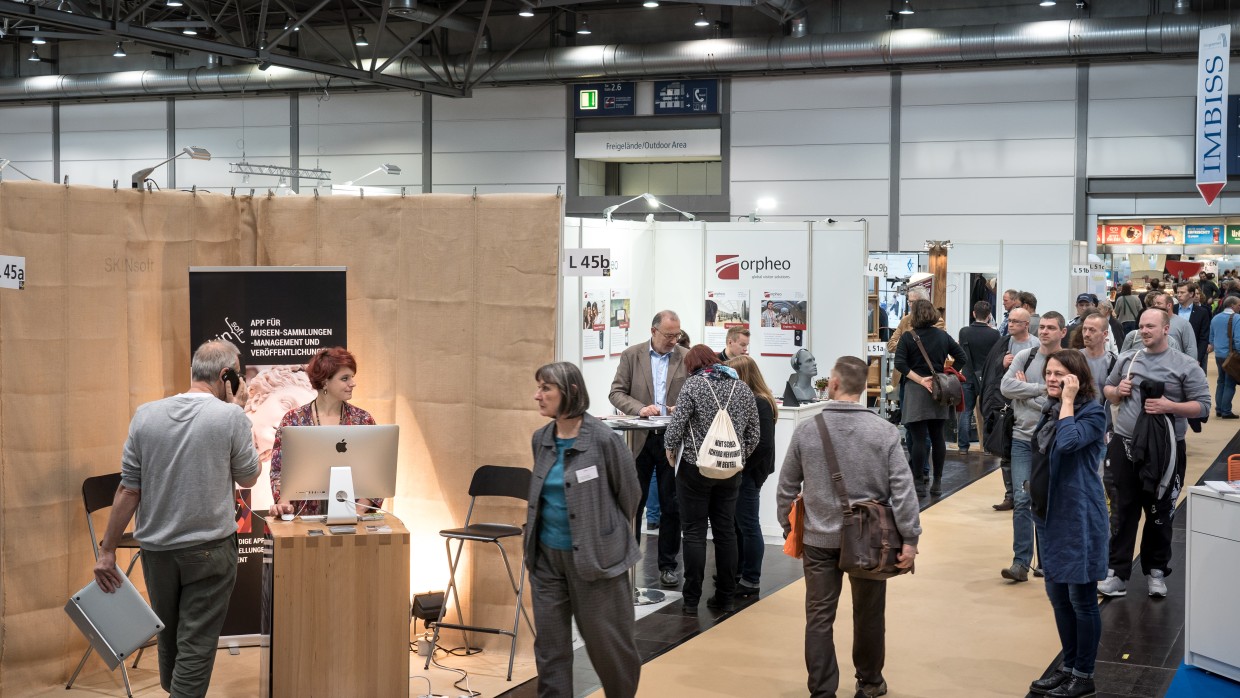 MUTEC visitors:
Museums I Exhibition centres I Galleries
Collections I Depots I Archives
Science Center
Architectural offices-, Planning-, Engineering offices
Authorities I Foundations I Public institutions
Preservation of art, culture and monuments
Training and Further Education I R&D
Libraries
Theatre | Stages