Exhibitors present themselves: KLUG-CONSERVATION
The brand KLUG-CONSERVATION researches, develops and creates products for all those who are entrusted with valuable cultural artefacts.
Our aim of "preserving values" is not just about our products, which preserve cultural artefacts, but also about embracing our social responsibilities. The symbolic ribbon emphasises the link between our dedication to the preservation of cultural heritage and our commitment to the values associated with ethical business practices. Day after day we devote all our time and energy to the preservation of cultural assets and our responsibility towards society. The confidence of our customers in our products and services is our most precious asset. Customers of KLUG-CONSERVATION are guaranteed reliability with regard to long-term storage as well as in terms of sustainability. Our focus is on honesty and transparency of our products and actions rather than on profit. We vouch for the quality of our products and accept full liability for their suitability and durability beyond the minimum statutory warranty period of 24 months.
KLUG-CONSERVATION, your partner for guaranteed ageing resistant products suitable for the long-term preservation, archiving and display of cultural artefacts – customized, premium quality products without an expiry date.
Product assortment: Passe-partout and conservation boards, backing boards, archival and photographic archival boards, blotting boards, a large variety of corrugated board qualities, honeycomb panels, archival and photographic archival paper, Japanese and silk tissue papers, file folders without flaps, preservation folders, folders with filing mechanism, expansion folders with flaps, enclosures opaque/transparent, envelopes, protective seal bags, wraparound boxes, clamshell boxes, slipcases, shelf files, archival boxes, two-piece boxes, folded boxes for film reels, tubes made from conservation board, glues, tapes, label paper, mounting accessories.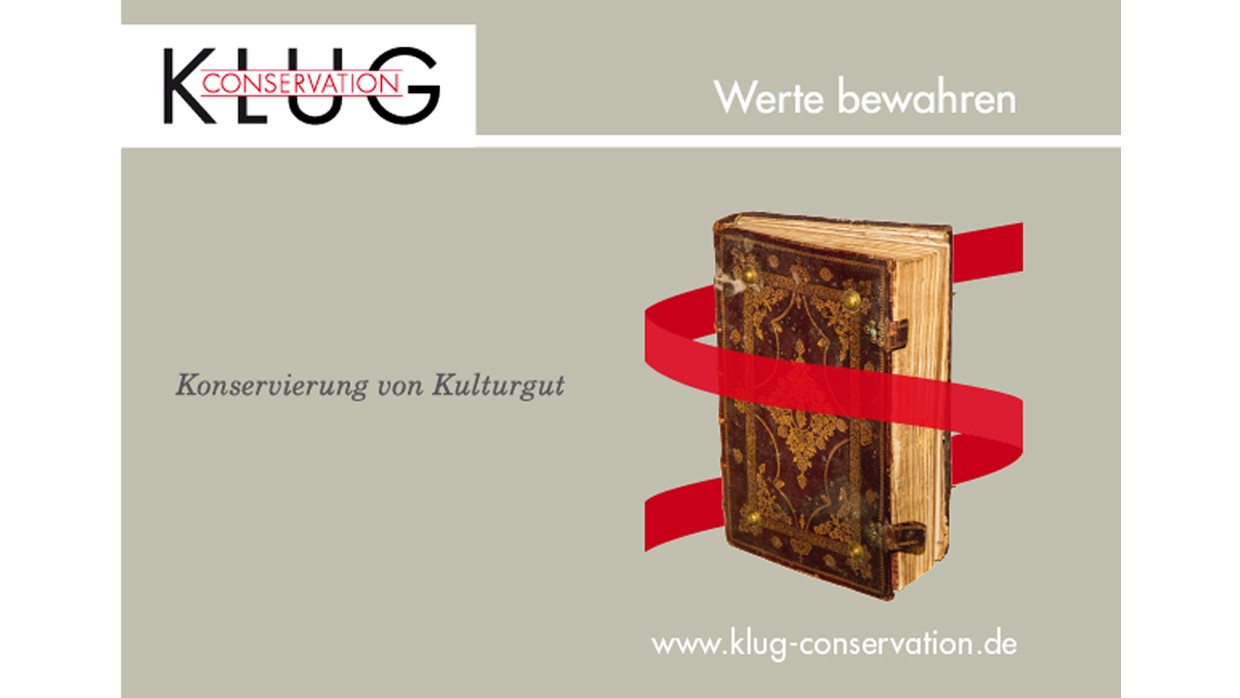 Back to all news